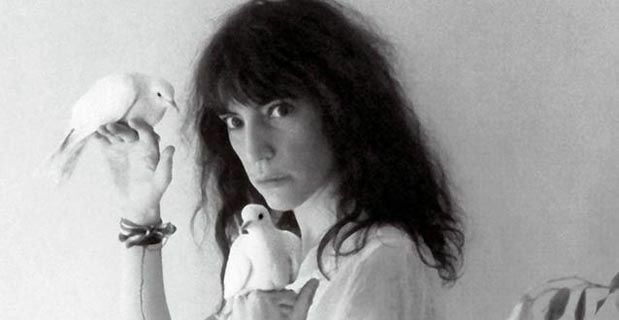 "Quando dico rock'n'roll non voglio dire un gruppo che suona canzoni, dico di un'intera comunità che passa per il suono, il ritmo e lo scambio di energia. Una sorta di sentire comune. Il senso di essere insieme in qualcosa di unico. Non è una merdata hippie. Non mi interessa un mondo dove tutti cantino la la la la, ma credo che esista un futuro là dove tutti cominceremo a comunicare."
(Patti Smith)
C'è una specie di mistero nei concerti di Patti Smith, in quelli di questi ultimi tempi, ormai accantonate le muscolari e arrabbiate esibizioni dell'era punk, una qualità speciale e indefinibile che ho cercato di afferrare, a cui ho tentato di dare un senso.
L'enigma di questa figura scarna, in un completo nero da uomo, lunghi capelli bianchi e sorriso gentile, è la straordinaria facoltà di coagulare su di sé molto più che semplice attenzione -che è soltanto disposizione visiva e mentale.
Patti appare sul palco e si percepisce chiaramente il vortice delle energie vitali di ognuno addensarsi magneticamente intorno a lei, che è oltre l'intrattenimento, oltre le mirabilia da rockstar.
Per lei, che pure ha aperto le porte almeno a due generazioni profetizzando punk e new wave, la musica è un veicolo, uno degli innumerevoli a disposizione, uno dei tanti esplorati.
Perché Patti è innanzitutto una poetessa, a costruire la sua identità artistica sono le parole, i versi, le strofe, che non si lasciano costringere nei limiti ristretti della carta e dell'inchiostro, l'editoria è marginale nel suo percorso, questa lirica va raccontata, prende vita e respiro dalle vibrazioni sonore.
Quella di Patti Smith è una voce narrante, anche quando canta. 
La strada della sua poesia è quella dell'happening, della performance, le stimmate dell'America sull'arte contemporanea, un genere che, cullato da Futurismo e Dada, trova la sua collocazione ideale nell'alveo della controcultura statunitense degli anni '60, nell'epoca fervida e lisergica di peace and love, figli dei fiori, beat generation, esplorazione incessante di nuovi orizzonti esistenziali ed estetici.
Le cifre di questa nuova, poliforme pratica artistica in cui confluiscono danza, musica, teatro, cinema, pittura, scultura, fotografia sono la spontaneità, la casualità, l'improvvisazione (le performances rigidamente strutturate e sceneggiate appartengono ad altri tempi ed altre latitudini) e, soprattutto, la partecipazione attiva del pubblico, che diventa creatore.
L'happening è una sorta di rito collettivo, presieduto dall'artista ma concelebrato da tutti coloro che si trovano a condividerne quel momentaneo destino.
È la santificazione dell'istante, della fugacità del tempo e – nonostante la documentazione visiva e sonora – dell'irripetibilità sostanziale dell'evento artistico.
L'approdo finale ed estremo di tutta la tradizione romantica, dove il sentimento, la tempesta interiore, l'emozione, la vita, insomma, non sono raffigurati attraverso pennelli, colori, materia inerte, ma comunicati e vissuti, per un breve spazio di tempo, con altri esseri umani.
Gli strumenti dell'artista non possono che essere il corpo, la voce, i gesti, allenati da una disciplina spirituale a captare e restituire quello che non è rappresentabile, l'immateriale. Questa è l'accademia di Patti, i readings newyorkesi con Allen Ginsberg e gli altri guru della poesia beat, i memorabili concerti scintilla dell'imminente esplosione punk.
L'impatto travolgente e non mediato, quasi primordiale, del rock è il mezzo d'elezione per veicolare il suo messaggio.
Nel film Dream of life, di Steven Sebring, che così bene la racconta, dice: "La mia missione è comunicare, risvegliare le persone, donare la mia energia e accettare la loro. Tutti abbiamo una voce e abbiamo il dovere di usarla".
Questa fede anima un incrollabile impegno civile, disegna icone indimenticabili e traduce in ispirazione il senso di appartenenza e responsabilità nei confronti dell'umanità intera.
Immersa con i sensi tesi nella  città come dentro un cosmico sacco amniotico, non si stanca di "attraversare strati su strati di esistenza umana", in un dialogo incessante con l'Anima del Mondo, che è essenzialmente Amore.
Quell'amore che vede oltre la morte e trasfigura in bellezza il dolore per la scomparsa in rapida successione del fratello Tod, dell'amico alter ego Robert Mapplethorpe – le cui foto avevano celebrato quell'esile corpo fino a conferirgli la densità di un simbolo- e soprattutto dell'amore della sua vita, il padre dei suoi figli, Fred 'Sonic' Smith, Frederick.
Questo svela l'enigma, sono quelle mani aperte come ali, le dita dieci antenne che si agitano a intercettare luce e intensità, a nutrire e alimentarsi, ad abbracciare e benedire, a scambiarsi coraggio e futuro.
Questo è il segreto, il potere dei sogni che si realizzano, il fuoco inestinguibile della passione che tutto sostiene e a tutto dà un senso.
People have the power.
(Donatella Donati per FORTE! Festival)